Stand Up Paddle Board
Sup Kona
AN OUTSTANDING EXPERIENCE FOR ONE AND ALL
Although this basic form of surfing has been around for centuries, stand up paddle boarding, or SUP, is now the fastest growing sector of the surfing world. Stand up paddle boarding in Kona is easy to learn and it gives you a unique perspective on the waves and ocean. Stand up paddle board in the bay, the channel, or ride a wave in the surf, it's a blast.
At Kahalu'u Bay Surf & Sea we have a great selection of stand up paddle boards for rent, and we have the experts that can get you in the water and on your way with a SUP lesson.
For extra fun, rent some of our great snorkel gear and jump into the action from your own stand up paddle board. We recommend taking out our new Full Face Snorkel Mask for the best SUP/Snorkel experience. Join us for a stand up paddle boarding day and have an outstanding experience.

---
Have More Fun by Taking Stand Up Paddle Board Lessons
LEARN TO STAND UP PADDLE IN KONA, HAWAII
Paddling a stand up paddle board is fun by itself, but the more you know about how to maneuver and what to look for on and in the ocean, the better your experience will be. We highly recommend a lesson for beginner stand up paddlers, and even if you already know how to SUP, we can show you the next steps in becoming an experienced stand up paddle board rider.
PRIVATE PADDLE BOARD LESSON
SEMI-PRIVATE PADDLE BOARD LESSON
Semi-Private lessons are great for couples and friends.
GROUP PADDLE BOARD LESSON
No experience necessary!
What to Expect…
Stand up paddle board lessons start with a brief on land demonstration where your instructor will go over a few safety tips such as how to wipeout properly and basic stand up paddle etiquette. Next, we show you how to correctly position yourself on the paddle board, the right way to hold your paddle and how to correctly paddle while kneeling and standing on the paddle board. Once you have practiced the correct SUP techniques on land, it off to the warm, blue waters of Kahaluu Bay to practice your skills.
In the water, your SUP instructor will monitor your progress and show you more advanced paddling techniques if you are ready. We can even teach you how to ride waves and surf on a stand up paddle board!
Like any sport, the better you are the more fun you have. Our expert instructors will have you standing and maneuvering your paddle board in one lesson!
---
RENT A STAND UP PADDLE BOARD IN KONA, HAWAII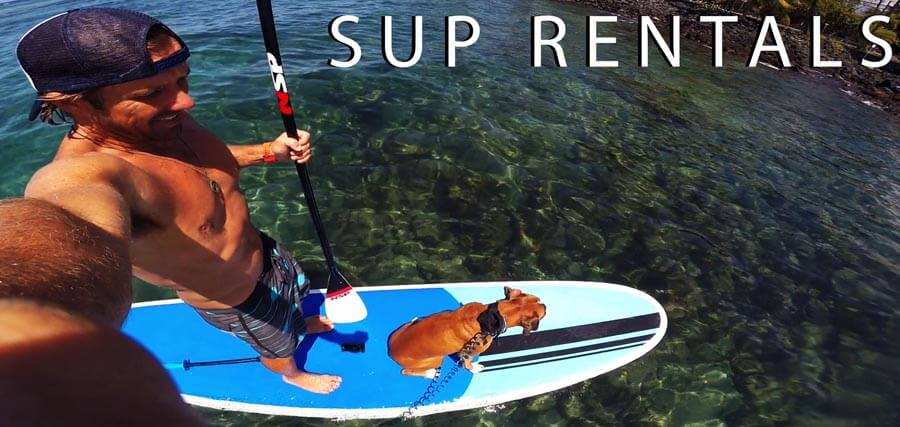 IT'S FUN FOR THE WHOLE FAMILY
It's easy, it's fun and it's an outstanding way to experience Kona, Hawaii! Taking out a stand up paddle board rental in Kona gives you a bird's eye view of the waves and the sea below.
We have one of the largest selections of NSP stand up paddle boards for rent in Kona, Hawaii, including "surf" and  "all around" models to choose from. No matter what your skill level, we have a SUP that will work for you.
When you rent one of our high quality stand up paddle boards, we go the extra mile to make sure you are prepared for fun! We will show you the best way to get in and out of the water with your paddle board as well as the best area to paddle safely. We will even help you carry your SUP across the street and help you get in the water if you like.
If the surf conditions are rough at Kahaluu Bay, we can help you strap the paddle boards to your car (no extra charge of course) and send you down to Keauhou Bay. Protected from the wind and surf, Keauhou Bay is a perfect place for beginners to try stand up paddle boarding when the surf it too big.
We will get you equipped and up on an stand up paddle board in no time. It's truly a great way to explore the Big Island of Hawaii.
2 Hours- $35
4 Hours- $55
Daily- $75
3 Days- $185
Weekly- $250

---
It's a Big Island Out There with Some Great Places to Paddle
PLACES TO GO, PLACES TO SEE
A stand up paddle board is one of the most versatile surf crafts in the water. You can use it to travel, to surf and to explore places that are not accessible by land. Want to see where Captain Cook first came to Hawaii? Grab your paddle, because you can't get there by land.
There are lots of great places to paddle in Kona and we can recommend the perfect spot for you.